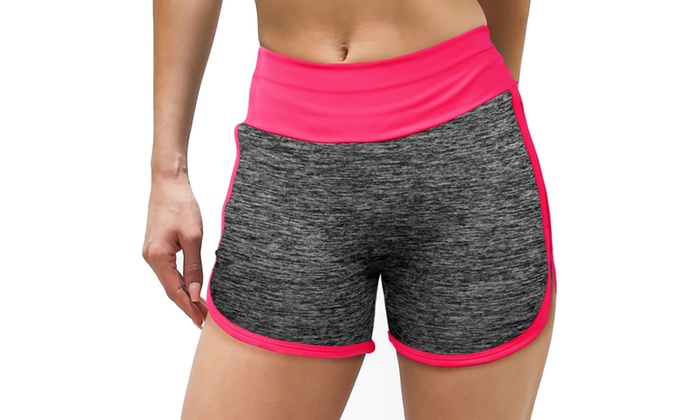 Yogis tend to flock toward a handful of favorites when it comes to clothing choices for their practice: yoga pants, yoga leggings, and high-waist capri leggings to name a few. Most of the essential pieces of a yogi's wardrobe are designed to cover the vast majority of the bottom half, typically ending somewhere between the knee and the ankle. Fabrics come in a variety of colors to make this modest clothing selection very popular among all yogis.
However, a handful of brave individuals are now finding that shorts are the ideal choice for their yoga class.
It takes a lot of confidence to opt for a pair of shorts over yoga leggings the first time. The question for many yogis is why shorts could be an ideal solution and whether or not they would be comfortable in that situation.
First, it should be noted that the reason shorts aren't typically worn is to give yogis the peace of mind that they are adequately covered throughout their practice. In poses such as the three-legged downward facing dog or the warrior III, having your leg extended high could reveal too much skin when wearing short shorts. Loose-fitting shorts and those that are super short don't offer much coverage during poses such as these.
For yogis who do opt to wear shorts, they should never fall into the "loose" or "short shorts" category. While it is uncomfortable for the wearer to don such revealing attire, it can be equally uncomfortable for classmates. Many of the shorts that yogis are opting to wear to class are longer in length and are created out of spandex material that hugs their legs closely.
The most significant benefit to wearing shorts to class is improving your alignment. Without having the joints covered up by loose-fitting yoga pants, yogis can see exactly where their knee is during all of their asanas. This is especially important during poses, such as the warrior II, where the knee should extend straight in the direction over the middle toes but still remain in line with the ankle.
Overextending the knee in poses such as these can cause a serious injury and should always be avoided. Being able to visually notice where your joints are throughout the flow makes it much easier to have a safer practice. Similarly, it also allows your yoga instructor to offer better advice faster when they notice your alignment is slightly off-kilter.
In a hot yoga class or a more rigorous practice, wearing shorts could provide a cooler solution. Yogis who aren't focused on overheating find more focus on their practice instead of seeking reprieve from the heat.
Wearing shorts to yoga is a very personal and bold move for yogis who are confident in their practice. They must be of high-quality fabrics and offer plenty of protection. Bermuda-length shorts or bicycling shorts are a great option for those who are mulling over this ensemble. Consider whether this change to your usual yoga leggings may help you to move one step deeper in your practice this week.